Chipotle & Lime Chips (10 x 80g)
Activated Chips
Meet the world's first Activated Chips! Snacking Just Gut Good...
Spicy Chipotle meets zesty lime in a sweet & smoky fusion. Pure Mexican magic.
We're Boundless Activated Snacking, and we're here to make snacking well easy. We drench our ancient supergrain Sorghum in saltwater, kickstarting Mother Nature's germination process. A good soak removes the bitter phytic acid and protective enzymes, leaving us with the good stuff. 
10 x 80g Sharing Bags
✓ ACTIVATED ✓ VEGAN FRIENDLY ✓ GLUTEN FREE ✓ KIND TO YOUR GUT ✓ 80G SHARING BAG ✓ NON-GMO ✓ 100% NATURAL INGREDIENTS ✓ PLANT POWERED PROTEIN ✓ GAME-CHANGING FLAVOUR
Light and fluffy
Great tasting 'crisps' that are light and fluffy and good for the gut.
Kinda spicy
These have a nice spicy kick with a side of lime. Polished off a bag today with some raiTa. Delish!
Addictive!
Struggle not to eat the entire bag to myself, but they are healthy snacks .. so don't feel as guilty!
Dipped with hummus.. match made in heaven!
awesome snack
recently diagnose diabetic i was searching the net for something to snack on, i tried these and im addicted, thank you boundless for producing something that even i can enjoy:) buy with complete confidence, i ordered on friday was bank holiday monday and recieved my parcel on tuesday speedy delivery too

ACTIVATED

GLUTEN FREE

Vegan

HIGH FIBRE

GUT HEALTH

HIGH PROTEIN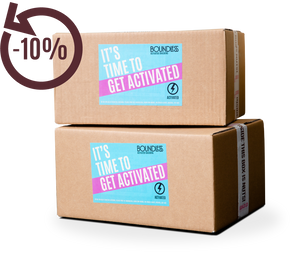 SUBSCRIBE & SAVE
Choose a time that works for you, and have your fave snacks delivered on repeat without having to lift a finger*- it's literally that easy.
(*you might wanna get the door when they arrive though.)
Explore more
Check out the rest of our activated range...