TAKE SNACKING TO THE NEXT LEVEL
EXPLORE OUR RANGE OF ACTIVATED NUTS AND SEEDS

Activated

Vegan

Gluten Free

High Fibre

Gut Health

High Protein
Activation is actually pretty old, like centuries-old. We all know by now that raw nuts and seeds are packed full of good stuff- issue is, we don't get the full benefits without activation. By soaking them in saltwater (kinda like the sea), we draw out the phytic acid (which hinders your digestion and can taste a bit bitter).
With the acid out of the picture, we're left with a goldmine of nutrients and a snack that's better for your digestion, has an incredible flavour and a lighter crunch.
What's not to love!?
Shop Activated
Flood
We drench our nuts & seeds in saltwater, kickstarting Mother Nature's germination process.
Activate
A good soak removes the bitter phytic acid and protective enzymes, leaving us the good stuff.
Bake
Then, we bake! Using bold herbs & spices, our snacks are born with a signature crunch,
Shop Activated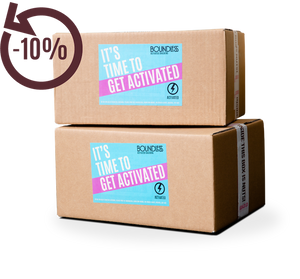 A self-confessed snacking addict like us? Subscribe to receive a regular dose of Boundless AND receive a 10% discount: win-win right?