Sea Salt & Cider Vinegar Chips (10 x 80g)
Activated Chips
Meet the world's first Activated Chips! Snacking Just Gut Good...
A sprinkle of sea salt and a kick of tangy cider vinegar. You can't beat a classic. 
We're Boundless Activated Snacking, and we're here to make snacking well easy. We drench our ancient supergrain Sorghum in saltwater, kickstarting Mother Nature's germination process. A good soak removes the bitter phytic acid and protective enzymes, leaving us with the good stuff. 
10 x 80g Sharing Bags
✓ ACTIVATED ✓ VEGAN FRIENDLY ✓ GLUTEN FREE ✓ KIND TO YOUR GUT ✓ 80G SHARING BAG ✓ NON-GMO ✓ 100% NATURAL INGREDIENTS ✓ PLANT POWERED PROTEIN ✓ GAME-CHANGING FLAVOUR
Lovely 😊
Really lovely texture, filling and tasty. Wish there were more flavours though!!
Compellingly moreish!
Oh, my goodness - I LOVE this product! My main problem, having discovered them, is being disciplined about not eating too many in one go - because they are incredibly 'moreish', a taste explosion each time, with a lovely crunch. The fact that they are also super-healthy is win-win-win. Enjoy them! I am! :-)
My favourite
The salt/vinegar balance is nearly perfect in these, possibly a bit more salt would be nice but its not a problem. I think of these chips as "healthy quavers", they are thicker than crisps but I am now used to these as I don't eat normal crisps anymore! It's so nice having a guilt free treat, I'm happy to pay the bit extra for these vs normal crisps, and sorghum is soo underrated as a healthy whole grain!
Delicious and nutritious
It's a refreshing change to get snacks that not only taste good but also aren't full of the usual nasties that processed foods have. Yummy and good for the gut.

ACTIVATED

GLUTEN FREE

Vegan

HIGH FIBRE

GUT HEALTH

HIGH PROTEIN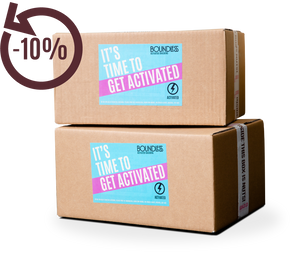 SUBSCRIBE & SAVE
Choose a time that works for you, and have your fave snacks delivered on repeat without having to lift a finger*- it's literally that easy.
(*you might wanna get the door when they arrive though.)
Explore more
Check out the rest of our activated range...