Sour Cream & Onion Chips (10 x 80g)
Tangy Sour Cream meets sweet onion in a taste you'll want to savour.
Meet our Sour Cream & Onion chips! Arriving in 80g sharing bags, these activated powerhouses mean gut friendly fibre, packed full of nutrients & mouth-wateringly good flavours. Will you be sharing, or will this be for me, myself and I?
10 x 80g Sharing Bags
✓ ACTIVATED ✓ VEGAN FRIENDLY ✓ GLUTEN FREE ✓ KIND TO YOUR GUT ✓ 80G SHARING BAGS ✓ NON-GMO ✓ 100% NATURAL INGREDIENTS ✓ PLANT POWERED PROTEIN ✓ GAME-CHANGING FLAVOUR
Our favourite flavour
Both my husband and I love it! I find that it has a subtle taste and a great crunch! Miam!!
Power sour
Great quality and taste and so light in density

ACTIVATED

GLUTEN FREE

Vegan

HIGH FIBRE

GUT HEALTH

HIGH PROTEIN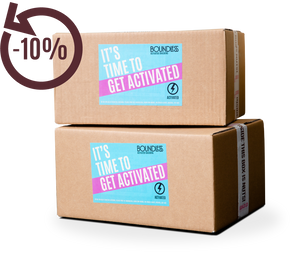 SUBSCRIBE & SAVE
Choose a time that works for you, and have your fave snacks delivered on repeat without having to lift a finger*- it's literally that easy.
(*you might wanna get the door when they arrive though.)
Explore more
Check out the rest of our activated range...